Trapped in someone elses frames? Don't see frames at all? Click here!
Maximize browser for best view!

Since 12-29-98
~*They Seek Him Here, They Seek Him There,*~

~*Those Frenchies seek Him Everywhere*~

~*Is he in Heaven, or is he in hell?*~

~*That Demmed Elusive !!!*~

Updated ~-~-99

Re-opening - Lady Blakeney's official Grand Re-opening!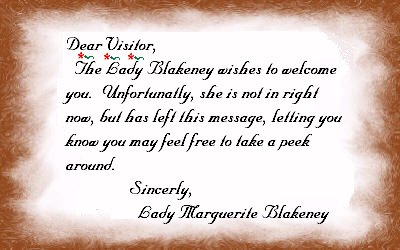 This Scarlet Pimpernel site owned by
Lady Blakeney
Click for NEXT | RAND | NEXT5
Or learn more about the Scarlet Pimpernel Ring

Meet Hutch, Lady Blakeney's new guard dog. You may think she would want one a little more elegant, but Hutch is very sweet! (She didn't even realise the red flowers on the mat he was on until she stuck him here~!
Lady Blakeney's is copyrighted